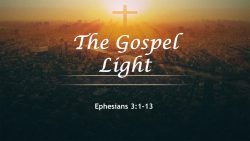 September 5, 2021
9/5/21 Sunday Service
Title: The Gospel Light
Text: Ephesians 3:1-13
In our sermon today, we will continue our new series through the book of Ephesians looking at spiritual warfare.
Below are the timings for each part of the service:
0:05 Welcome & Announcements-Dr. Josh Peeler
6:51 Worship Music- "Father I Adore You" #256 (All Verses)
8:29 Worship Music- "Crown Him With Many Crowns" #161 (All Verses)
11:27 Call to Worship- Colossians 1:24-27 – Rev. Josh Connor
13:21 Worship Music– "Who Am I?" – Dianne Talbert
17:04 Sermon- The Gospel Light – Ephesians 3:1-13 – Dr. Josh Peeler
If you have any questions, feel free to reach out to anyone in church leadership.
CCLI License # 1692844