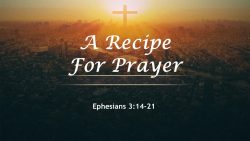 September 12, 2021
9/12/21 Sunday Service
Title: A Recipe for Prayer
Text: Ephesians 3:14-21
In our sermon today, we will continue our new series through the book of Ephesians looking at spiritual warfare. We will see today the blessing that Paul prayed over the church at Ephesus. Paul prayed for inner strength. As we seek inner strength, there are many small things in our lives that can distract us from seeking it. God knows everything about us. Being rooted and grounded is emphasized as the foundation of our faith and is vital for our relationship with God. Prayer is about praying blessings on other, when we pray blessings on others, some of the blessing will overflow and get on us.
Below are the timings for each part of the service:
0:05 Welcome & Announcements-Dr. Josh Peeler
6:51 Worship Music- "To God Be the Glory" #4 (All Verses)
8:29 Worship Music- "How Deep the Father's Love for Us"
9:10 Recognition of Building Committees
9:11 Building Dedication
11:27 Call to Worship- Romans 11:33-36 – Chris Norwood
13:21 Worship Music– "Reckless Love" – Praise Team
17:04 Sermon- A Recipe for Prayer – Ephesians 3:14-21 – Dr. Josh Peeler
If you have any questions, feel free to reach out to anyone in church leadership.
CCLI License # 1692844